Day Four at Slapstick Festival 2017 – Reliving the Gala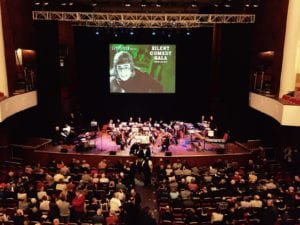 Last night was our annual Silent Comedy Gala hosted by the wonderful impressionist, Rory Bremner. Topical as always, his Donald Trump was spot-on! He soon had the audience chuckling with his very funny political satire (extremely appropriate considering the timing of the gala with the US Presidential Inauguration)! My personal favourite gag of him as Trump was when he mentioned the protesters would be better suited in a silent film!
The first half of the film consisted of two great shorts – The High Sign starring Buster Keaton and The Finishing Touch with Laurel and Hardy. I think that the whole audience was delighted with the new secret hand signal that we all learned from Buster. Both shorts were accompanied by the dynamic European Silent Screen Virtuosi – it's almost as fun watching them perform as it is watching the shorts!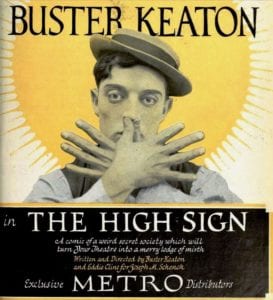 The second half started with an energetic Roy Hudd doing his own impersonation of Max Miller. He sang a couple of old music hall songs and everyone enjoyed the jokes. This was a good warm-up for the main event of the evening, Harold Lloyd's The Freshman. Always an exciting experience, the film was accompanied by the Bristol Ensemble conducted by Günter A. Buchwald. Everyone was rooting for Lloyd's attempt at becoming the big man on campus!
This evening sees our Chaplin Double Bill and tomorrow is packed full of great events including Alexei Sayle's Top Comedy Moments.