Day 5 of Slapstick 2017 – A Quick Recap of Yesterday
It's the morning of the last day of the festival! Yesterday was jam-packed with exciting events at the Watershed and Colston Hall.
The day started with Chris Serle presenting a Fairbanks and Chaplin double bill. This was followed by a conversation with Roy Hudd and a screening of his 'silent' comedy, The Maladjusted Busker. Roy Hudd proved quite popular and remained in the cinema auditorium afterwards answering audience questions. Robin Ince had a great chat with Graeme Garden about The Goodies books that have been published, but also books that inspired him. The last event at the Watershed for the day was Neil Innes presenting a rare episode of Colour Me Pop.
The early evening saw the start of our Chaplin Double Bill. Simon Callow did a wonderful job presenting three of Charlie Chaplin's best comedy shorts. These were accompanied by the always energetic European Silent Screen Virtuosi. The crowd was already buzzing as they left the auditorium and it was brought to an even bigger buzz as the Big R Big Band were playing big band music in the foyer complete with swing dancers!
https://www.facebook.com/plugins/video.php?href=https%3A%2F%2Fwww.facebook.com%2FSlapstickFestival%2Fvideos%2F1300431993333670%2F&show_text=0&width=560
Saturday evening concluded with a screening of The Great Dictator. A very timely film to be screened given the current political climate! The screening was preceded by music from some great performers including Grace Petrie, Neil Innes, and Ronnie Golden. Chaplin's rousing speech from the film was met with much deserved applause!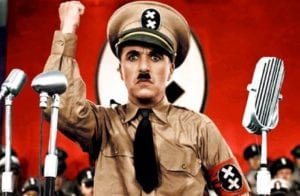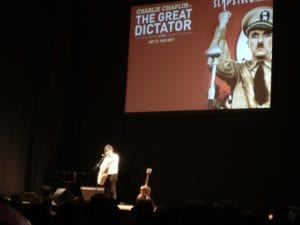 There is still a day packed full of events left! Accidentally Preserved: Surviving Slapstick on 16mm has already started (our last event at the Watershed). The rest of the day will be at the Bristol Old Vic. We've got Barry Cryer discussing his friendship with Tommy Cooper, Jeffrey Holland in his one-man show about Stan Laurel, a revisit of The Young Ones, Colin Sell presenting his favourite British comedy clips, and Alexei Sayle sharing his top comedy moments. All tickets for these events can be booked through the Bristol Old Vic website.