Slapstick Festival 2017 – 2 Days In!
It's Day Two here at the Slapstick Festival – and we are in full swing!
We've got our welcome desk set up at the Watershed. If you are coming to one of the events, come and say hello. We've also got some great t-shirts, badges, magnets, and posters for sale. They'd make great souvenirs of this year's festivities!
Yesterday's events included NOTFILM, Mon Oncle, Victoria Wood: Let's Do It, and Shooting Stars. There has been some great audience feedback for yesterday.
Lucy Porter, Pippa Evans, Andrew Kelly, and Louise Wingrove presented a very funny and touching discussion about the influence of Victoria Wood. A great moment was where instead of the audience asking questions… Lucy and Pippa asked the audience to share their favourite Victoria Wood memories. After a few shy responses, you could tell that people were eager to share!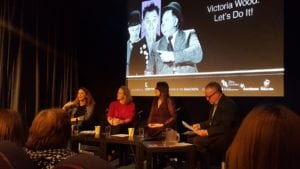 Shazia Mirza joined us for a screening of Shooting Stars. After a hilarious introduction, the audience was treated to a romantic thriller with some great insights into how silent films were made. Piano accompaniment was provided for the film by the very talented Daan van den Hurk. We had silent film harpist, Elizabeth-Jane Baldry, provide beautiful music for the short film that was shown as well.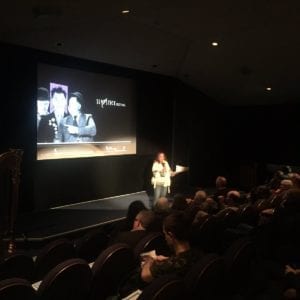 Today started with David Robinson filling in for Kevin Brownlow to present a screening of Harold Lloyd's Hot Water. A very funny film that will make you think twice about taking a (live) turkey onto a trolley! Again, we had the wonderful piano accompaniment of Daan van den Hurk.
The audience had some lovely things to say after the screening of Le Soupirant/ The Suitor! It was a great tribute to the late Pierre Étaix, who passed away last year.
Lucy Porter started the afternoon with Why Be Good? starring Colleen Moore and this was followed up by Thomas Graal's Best Film and the Chaplin short, The Floorwalker (both accompanied by John Sweeney on piano).
As I am writing this, the Watershed is buzzing for our sold-out event for tonight! Robin Ince and Michael Legge will be presenting The People's Poet: A Celebration of the Stickiest Bogeys of Rik Mayall.
If you haven't been able to join us so far – there's still time! Check out our events on Friday, Saturday, and Sunday!