Pordenone Diaries – Day 1
Some of the Slapstick team have just returned from an amazing weekend in Italy and Le Giornate Del Cinema Muto, which is currently running there until Saturday. For those that don't know, this is an international festival of silent film held annually in Pordenone, Italy. We spent the weekend immersed in a wonderful atmosphere celebrating silent film and its continued importance and I thought I would dedicate the next few blog posts to this extraordinary event.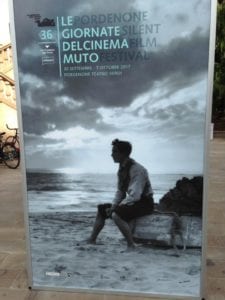 We arrived on Saturday afternoon. The first screening that we attended was entitled, "Flights and Fashion", newsreel footage of female aviators, followed by L'Autre Aile, a melodrama about a woman who overcomes the grief of losing her lover (a pilot) in a plane crash by becoming a pilot herself. We all agreed that this film was quite interesting in how it portrayed women as taking charge and not letting romantic interests take centre stage in their pursuits. One of my favourite scenes involved the female lead rebuking the advances of a would-be suitor. There is a close-up of him gently placing his hand on hers and she slowly removes her hand from underneath. The films were accompanied by the lovely music of John Sweeney – one of Slapstick's regular musicians.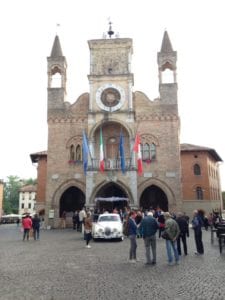 After a lovely meal, we attended the gala screening of King Vidor's The Crowd. This was my favourite event of the festival. The film was accompanied by a sixty-piece orchestra performing a score composed by Carl Davis (and conducted by the man himself). The film depicts the life and love of an ordinary man in the city and the accompanying ups and downs. The Crowd is a powerful film with some amazing shots. I don't want to ruin the film by writing any more about it… as it is worth seeking out and viewing! The film looked amazing on the screen and the score sounded superb! The film was preceded by the Roscoe Arbuckle short, The Butcher Boy. This short is notable as it contains the first screen appearance of Buster Keaton, and was jauntily accompanied by Donald Sosin and Romano Todesco.
All information about the films can be found on the festival website.
I will be writing a couple of more posts this week about the other events that we attended.