Marcus Meets the Goodies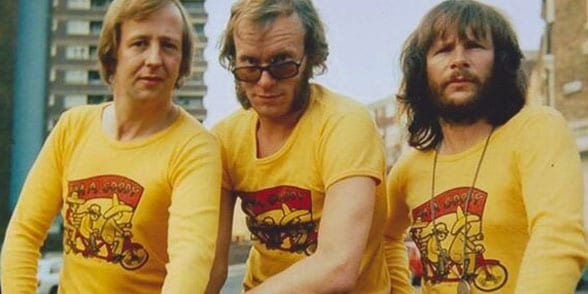 Sat 23rd Jan | St. George's | 5:00PM
Tickets: £15.00/£12.00/£6.00 (plus booking fee)
Satirist and comedian Marcus Brigstocke (God Collar, The Brig Society) meets the UK's finest comedy trio reunited at Slapstick Festival for a rare public screening of their western comedy classic 'Bun Fight at the OK Tea Rooms' (1975) Dir Jim Franklin, UK, 28mins.
From 1970 to 1982, television audiences roared with laughter in their millions at weekly editions of the visually inventive and stunt-led episodes of The Goodies that made Tim, Bill and Graeme household names. Here Marcus meets the classic comedy team as they discuss their legacy in comedy, their comic influences, western comedies and much more. With a chance too for Q&As, this is a unique opportunity to see these legendary performers together on stage discussing their love of silent comedy.
EVENT UPDATE: Graeme Garden has sadly been forced to withdraw from this event due to illness. He's sent us this message though:
"Graeme Garden sends his apologies but a stubborn chest infection prevents him from attending this year's Slapstick Festival. He hopes everyone has a great time at the festival as there are many brilliant events to enjoy."
The show will go on without him of course!
We hope you join with us in wishing Graeme a speedy recovery and we thank you for your understanding in this matter.
[yellow-box]BOOK NOW![/yellow-box]