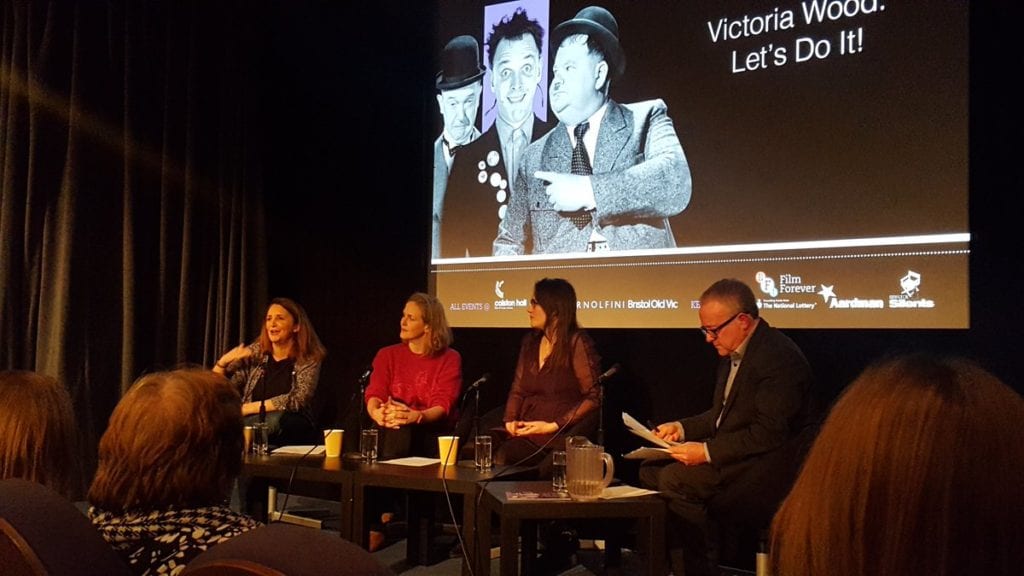 I've been trying to stick with the theme of female comedy duos for my blog posts up until our exciting event with Dawn French and Jennifer Saunders in June. For this post, I've decided to focus on the comedy partnership of Victoria Wood and Julie Walters. Sadly, Victoria Wood passed away last year. Victoria Wood was a true comedy legend, a friend of the festival and hosted one of the Silent Comedy Galas. One of our events this last January was a tribute to Victoria Wood, and I got to watch so much material from this comic genius in preparation for the event. So many of my favourite moments came from the sketches with Wood and Walters.
I'm from the U.S. originally, so Victoria Wood was quite new to me when I first moved to the U.K. Luckily, I have a friend who is a huge fan… so I have him to thank for introducing her style of comedy to me quite early in my U.K. life. I was already quite familiar with Julie Walters, mainly through her film work. In preparation for the event in January, I was introduced to the wonderful pairing of these two. I spent quite a few hours laughing to these two very funny women.
The event in January quite rightly focused on Victoria Wood. Andrew Kelly from the Bristol Festival of Ideas hosted the event which had a panel that included Lucy Porter, Pippa Evans, and Louise Wingrove. I thought that this blog post would be a great opportunity to discuss the working relationship of Wood and Walters, and include some of my favourite sketches!
Victoria Wood and Julie Walters first met in the 1970s in Manchester while applying for school. After a few coincidental meetings, the two gradually developed a long-lasting working relationship. One of the first instances of the two working together was where Julie Walters took the lead role in the television adaptation of Wood's play, Talent. Victoria Wood was offered the opportunity to develop a sketch show and she decided she would do it only if she could share the billing with Walters. The show that came out of this pairing was Wood and Walters. Walters would also appear in Victoria Wood as Seen on TV. Walters would also appear on the sitcom, Dinnerladies, and in the stage adaptation of the Acorn Antiques sketches from Victoria Wood as Seen on TV.
My absolute favourite sketches are the Acorn Antiques sketches. The sketches are a spoof of an old soap opera entitled Crossroads… but you don't need to be familiar with this show to enjoy Acorn Antiques! Victoria Wood portrays Miss Berta, one of the owners of the antique shop, and Julie Walters portrays the hilarious Mrs Overall, the shop's tea lady. I've put some of one of my favourite moments below: