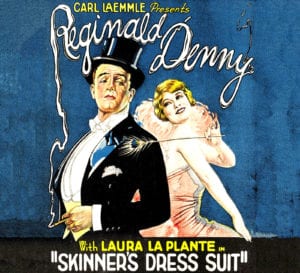 SKINNER'S DRESS SUIT (1926)
Directed by William A. Seiter
USA 70 mins PG
This show is intended to revive the reputation of a comedian of the silent era – not on the scale of a Lloyd or a Keaton, but extremely amusing and entertaining in his own right. I have several of his Universal comedies in my collection – they were released on 16mm by both Kodascope and Universal's Show-at-Home library and tonight's film is a good-quality copy of one of these.
Denny had been his father's stage name – he was W H Denny, the Gilbert & Sullivan singer. Reginald adopted it when became an actor. He was born in Richmond, Surrey in 1891 as Reginald Leigh Dugmore – and he died in Richmond, Surrey in 1967. He was educated at St Francis Xavier College in Mayfield, Sussex. He felt he had been educated enough for a theatrical career, so ran away at 16 and got a job as an extra at the Duke of York's theatre in London. He was hired as a chorus man by a prominent major American producer and opened in The Quaker Girl in New York in 1911. He is supposed to have made a film in 1912 but his memoirs don't mention it. He signed a contract as a leading baritone with the Bandmann Opera Co touring India and the Orient. Rehearsals were held aboard ship bound for Bombay. It was obvious that Denny was not experienced enough, nor was his baritone deep enough, so he was relegated to lesser roles. He went into partnership with a crook, found himself stranded but managed to raise enough money to get back to America. In 1914 he played his first film role with Hazel Dawn for Famous Players in Niobe, directed by Hugh Ford. He had plenty of roles in the theatre, but this was 1917, and when America entered the war, he decided it was time to enlist. He was shipped by to England to train for the Royal Flying Corps. While he was on his pilot's training course at Hastings, he won the Brigade Heavyweight Boxing Championship. The Armistice was signed before he finished his course, and on his discharge he returned to America. He found work at the World Studios in Fort Lee, in Bringing Up Betty and The Oakdale Affair, both with Evelyn Greely and both made in 1919. Denny was starred in a boxing series called The Leather Pushers. The money ran out, but Carl Laemmle, head of Universal, took an interest in them and with studio finance they became one of the most popular series of the 1920s. He was sent to California and starred in a series about the North West Mounted Police. With no riding experience, he was thrown and broke an ankle. Which was fortunate, because he then starred in a Jack London story, The Abysmal Brute (1923) about a backwoods boy who becomes a boxer. At Denny's insistence, light comedy was injected into the melodrama. Universal quickly capitalised on his talent – realising that combining humour with handsome physique was what had made Douglas Fairbanks a star. Not too long afterwards, Denny became the highest-paid English star next to Chaplin.
Bryant Washburn had played this Skinner role in 1917 for Harry Beaumont at Essanay, and it was so successful he made two more Skinner stories. Glenn Tryon remade it in 1929 as Skinner Steps Out directed by Wm James Craft with Glenn Tryon and Merna Kennedy.
As you'll see, Denny's characterisation was that of a typical young American entangled in the problems of suburban life. The trouble was that Harold Lloyd did the same thing and was strong competition. And when talking pictures revealed an impeccable English accent, Denny's career as a star comedian was over. He began a second career as a featured player – appearing in everything from Romeo and Juliet with Barrymore to Abbott and Costello Meet Dr Jekyll and Mr Hyde. He became one of America's favourite Englishmen. His career in silent pictures was forgotten, not only by audiences but by Denny himself.
In the 1960, I went down to Palm Springs to meet Laura la Plante. She was a delightful person, and very funny, but pathologically shy. How she managed to become a leading lady is beyond my comprehension. She pleaded with me not to bring a film crew down. We did go down, but only to interview her husband, Irvin Asher for the Hollywood series. However, she did say how much she enjoyed working on this film, and praised Denny highly… She must have enjoyed her experience because director Bill Seiter became her first husband.
Here are some extracts from my diary for my first trip to California in December, 1964,
I was staying at the house of film collector David Bradley in the Hollywood Hills. Bradley had gone to spend Christmas in Chicago and he arranged with his partner, Tom Webster to give me the run of his collection and to do all the driving. It could not have been a better arrangement.
December 12th; Tom picked me up and we headed for the Pasadena Freeway to meet Reginald Denny. Los Angeles was full of signs for Denny's – a coffee shop which had nothing to do with him. But on Hollywood Boulevard we passed a model shop named Reginald Denny's, and it turned out that in 1936 he had begun working on a radio-controlled system for model planes. He adapted it for use with anti-aircraft gunnery. These models were designated TDD – which stood for Target Drone Denny.
When we located his street, we saw a tall, unmistakable figure standing on the kerb, lit by the light from his open door. It was a particular thrill to meet Denny, because I knew his younger self so well thanks to Bill Eversons' screenings. He looked older than I expected and while he talked enthusiastically of his youth, I had the impression that he had thought little of his films. He admitted that he had not seen any of his silent for over twenty years. He clearly had little idea of how good he was and it took some persuasion before he agreed to see Skinner's Dress Suit.
Dec 14;
Tonight is our Reginald Denny screening, to be held at Bradley's house. Tom and I go out to buy a lot of drink (which no one drinks). And as we return, the crowd arrives. Reginald Denny and his wife, who played opposite him in a late silent, Night Birds, Reginald Denny jr, Denny's daughter, Joan and son-in-law, awaiting the show with a trace of nervousness. We settled them in and started with an episode from The Leather Pushers, the boxing series which brought Denny to Hollywood. This showed him as a likable but rather flat character, what humour there was came from the other members of the cast. But it was a surprise to see a leading man box so convincingly.
Then Skinner's Dress Suit – Bradley's print was a faded amber with bits missing, but although the audience seemed to miss some of the subtlety, it seemed to go over well. Smooth directed by Wm Seiter, it showed Denny at his best – as a comedian whose polish and technical brilliance never outshone his genuine warmth.
As the Denny family watched this 1926 comedy, the atmosphere noticeably changed. The picture's gags at first received restrained, relieved chuckles. But as the story took hold, the audience, which included Sennett comedienne Minta Durfee, gave the film their whole-hearted approval. Mrs Denny spotted herself as an extra, and identified Janet Gaynor as another.
The children were very pleased to see that their father was so good as an actor and Denny himself was very bucked. At the end, he was assailed with congratulations. Grinning shyly, he confessed that he had expected the film to creak. "It stands much better than I thought it would," he said. Then they all left, purring with delight.
Please note that there are a couple of short section missing.
Program notes provided by Kevin Brownlow. Introduction by Kevin Brownlow. Piano accompaniment by Daan van den Hurk.