It's Just a Jump to the Left!
Slapstick 2018 is just around the corner! We've got so many great events in January to help brighten those cold winter days and nights! Make sure you check out our full programme as we have four days chock-full of laughs, music and classic comedy with some great special guests. One of our events might have you braving the chill in fishnet stockings! Slapstick is proud to present The Rocky Horror Picture Show with Special guest, Jason Donovan!
I think everyone has their own Rocky Horror story. It's amazing to think that this film has been screening in cities around the world for over 40 years! I first watched the film in high school, went to a few interactive screenings in St. Louis (in costume!), and finally saw the stage production a couple of times here in the U.K. It's quite interesting that in the U.S. people mainly experience the film and in the U.K most people are exposed to the stage production. Both the film and stage versions have their own energy when you see them, but I have to say that I much prefer watching the film with an enthusiastic audience.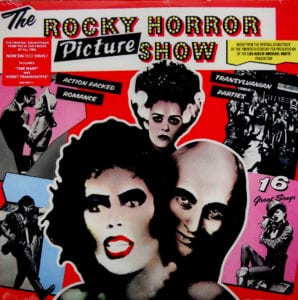 My first experience with Rocky Horror was watching it on video. I had seen my brother's soundtrack CD and was very confused by the cover… I had no clue that the main photo was of Tim Curry! He had rented the film from Blockbuster (yes, I'm that old!) and I sneakily watched it on my own one evening. "Dammit Janet" is the song that captured my attention! I had heard about screenings and decided to read what I could online. I learned some of the call back lines and very much enjoyed watching the film for the first time with a very raucous crowd! I've not seen The Rocky Horror Picture Show with an audience for many years, so I'm very much looking forward to our screening!
What I love about going to see a screening of The Rocky Horror Picture Show is that it is a film experience like no other. Audience members are encouraged to dress up, bring props and shout at the film. Some screenings have cast members that act out the film as it's being projected behind them. I've put a clip below from Fame that shows exactly what I mean:
I guess it goes without saying… but water pistols are a strict no no at Colston Hall!
Rocky Horror has had such a cultural impact. "The Time Warp" is a Halloween party staple. So many films and television shows have referred to the phenomenon. One of my favourite examples is this clip from Sesame Street with Susan Sarandon and the Count:
Richard O'Brien wrote the original stage musical and adapted it for film. He also starred as Riff Raff. In New Zealand, there is a statue commemorating him in his most famous role. Near the statue there is a wall that gives the dance instructions for "The Time Warp". There is a even a web camera set up so that the world can view visitors to the statue and their dancing skills!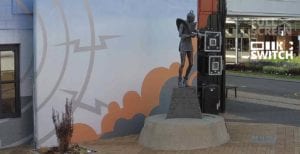 Join us for an evening of "absolute pleasure" on Saturday, January 27th! Tickets and more info can be found here.