Anita Garvin and Marion Byron – A Classic Comedy Duo
I hope everyone has seen our exciting event coming up in June! It's so great that we will be able to present the Aardman Slapstick Comedy Legend award to that fantastic comedic duo, Dawn French and Jennifer Saunders! The event has now sold out… so I'm hoping that everyone who wanted a ticket could get one! French & Saunders join a prestigious group of previous recipients, all of whom can be seen here.
I thought I would use the next few blog posts to look at famous female comedy teams of the past.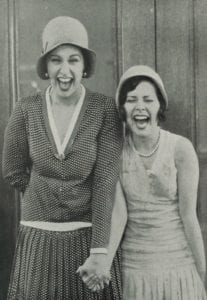 Hal Roach, producer of the Laurel & Hardy shorts, wanted to establish a female version of the comedic double act. Anita Garvin and Marion Byron were one of his attempts at a female pairing. They only made three shorts together, but one of them in now regarded as a classic of silent slapstick.
A Pair of Tights tells the story of two women out a on double date with two very cheap men (the tights of the title). The film follows the two pairs as they drive in a car that leads to a very funny and failed attempt at buying ice cream! I've included a link to an excerpt from the short below (ignore the annoying commentary, the quality was better than the full short that I found).
Both Garvin and Byron came from prestigious comedy backgrounds. Anita Garvin worked very frequently with Laurel & Hardy. One of her most acclaimed performances was the role of Laurel's wife in Blotto. Garvin also appeared in shorts with Max Davidson, Charley Chase and James Finlayson. Marion Byron made him film debut opposite Buster Keaton in Steamboat Bill Jr. She was hired by Hal Roach and worked in shorts with Max Davidson, Edgar Kennedy and Charley Chase. Both women retired from acting quite early, but it is great to have their performances preserved on film.
Information about Anita Garvin and Marion Byron was found on IMDB, Wikipedia (Garvin and Byron), and Edition Filmmuseum.