Bristol's Slapstick Festival kicks takes place from January 16th to January 19th with a packed programme of events celebrating silent comedy. This year's line-up features Richard Herring, Marcus Brigstocke, The Goodies, Tim Vine, Sally Phillips, Joe Thomas, Colin Sell, Tony Slattery and many more! For 24hrs only, on Thursday January 17th – you can buy one ticket and get another absolutely FREE for the following shows using the code COMEDY241…
THE INBETWEENERS LIVE.
Join us for a special double bill at Bristol Old Vic on January 19th, featuring actor Joe Thomas AKA Simon Cooper and the show's creators Damon Beesley and Iain Morris. Fresh off the screen from Fwends Reunited – the show's 10th anniversary special on Channel 4 – Joe, Damon and Iain will relive the show's best moments and reflect on its enduring success.
This will be followed by a screening of The Inbetweeners Movie (2011) – which still holds the UK record for the biggest opening weekend of a comedy film – introduced by Joe, Damon and Iain.
Buy Tickets Below using the code COMEDY241
The Inbetweeners Live, Saturday, January 19th, 20:00. Bristol Old Vic.
LOUISE BROOKS: ICON, MUSE, COMEDIAN WITH SALLY PHILLIPS.
Actress, presenter and comedian Sally Phillips (Smack the Pony, Miranda, Bridget Jones) joins Slapstick to introduce this film co-starring the silent screen actress Louise Brooks in an early W.C. Fields silent comedy.
Best known for her iconic leading role in Pandora's Box (1928) Brooks developed her acting skills in comedies working for Paramount studios and this, her fourth feature, is one in which her comedic talents shine.
It's the Old Army Game (1926) is an uproarious comedy in which the inimitable W.C. Fields finds it impossible to get some sleep, a non-stop comedy of errors.
With live musical accompaniment from the European Silent Screen Virtuosi.
Buy Tickets Below using the code COMEDY241
Louise Brooks, Saturday, January 19th, 11:15. Bristol Old Vic.
LAUREL & HARDY – WAY OUT WEST WITH BILL ODDIE & ROBIN INCE.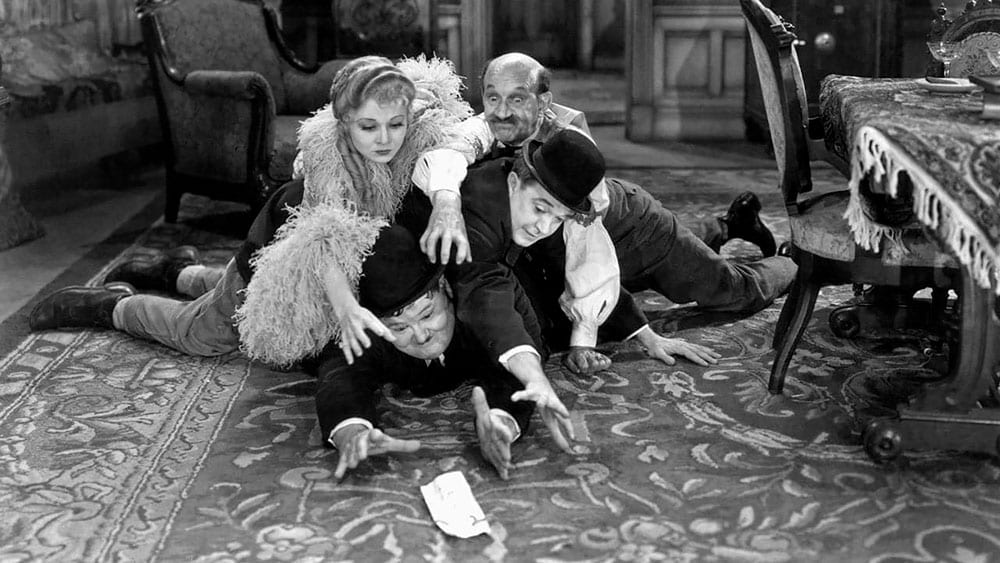 If you fell in love with Laurel & Hardy all over again after seeing Steve Coogan and John C Reilly's heartwarming biopic Stan & Ollie, then we have just the thing for you – a rare chance to relive the magic of Laurel & Hardy on the big screen.
Considered by many people, including Bill Oddie, to be Laurel & Hardy's finest and funniest feature, we'll be screening Way Out West (1937) on the Friday of Slapstick at Bristol Old Vic.
Bill will also be talking to Robin Ince before the screening about why he loves the film so much.
Buy Tickets Below using the code COMEDY241
Friday, January 18th 22:00. Bristol Old Vic. Tickets from £12.50.
LAUREL & HARDY'S COMEDY CLASSICS WITH RICHARD HERRING, ROWLAND RIVRON AND FRIENDS.
Comedian Richard Herring will be joined by Rowland Rivron and another special guest to introduce three classic shorts starring Stan & Ollie for the final event of our Bristol Old Vic takeover.
Joining them will also be none other than Colin Sell (from BBC Radio 4's I'm Sorry I Haven't a Clue) on piano.
Buy Tickets Below using the code COMEDY241
Sunday, January 20th 20:00. Bristol Old Vic.
AN AUDIENCE WITH LITTLE & LARGE.
In this show, one of Britain's best comedy double acts of all time, Little and Large, will be in conversation with presenter and writer Matthew Sweet.
At their peak, Syd Little and Eddie Large attracted up to 25 million viewers to The Little and Large Show (1976-1992). Tragedy hit in the form of serious health issues for Eddie and a fight for his life ensued, leading to the premature end of their act.
Hear their unique showbiz story in their first onstage appearance together for decades and following their triumphant 2018 TV reunion on Ant & Dec's Saturday Night Takeaway.
Buy Tickets Below using the code COMEDY241
Little & Large, Friday, January 18th 19:30. Bristol Old Vic.
CHECK OUT THE FULL SLAPSTICK FESTIVAL PROGRAMME HERE.